Well, over the last fortnight, I have had yet, more goodies arrive. I not sure what part I like about knitting the best, the arrival of nice
knitterly
things, or the actual knitting itself ;-)
The first to arrive were these, three balls of black yarn, which hopefully shall become DB socks, yes, these still haven't been started and are still in the pending pile, must get cracking on with these, as I may start to feel guilty when the first
STR
package arrives, which should hopefully be over the next fortnight, but then again
STR
over lengthy DB black socks, What would you choose to make first? ;-)
The other two items are the new Debbie Bliss books, Out of Town and Pure Cotton book, both of which do have a few patterns that I would like to make, The Pure cotton book, if you turn it over has another section of patterns using the new yarn Stella, so it is almost two books in one.
This pattern has really caught my eye, ALEXA in Debbie Bliss Stella, just ideal for the summer.


The other pattern at the back of the first photograph is the Cropped Cardigan from the Blue Sky Alpacas, I also ordered the yarn for this from
Get Knitted
, The yarn should hopefully arrive any day now, as they did not have enough in stock and needed to re-order.
Also when ordering I just couldn't resist this, isn't this so cute ;-)
It's the keyring sweater from Lantern Moon
Also to arrive was a skein of
Colinette
Jitterbug in Bright Charcoal, I have not bothered to photograph this, as I was a bit disappointed, think I may have the same problem as
Roxy
mentioned on her blog, as I think the bright bits have
definitely
been missed on my skein, one of the problems with hand painted yarn, so this has been added to the never ending sock yarn stash pile.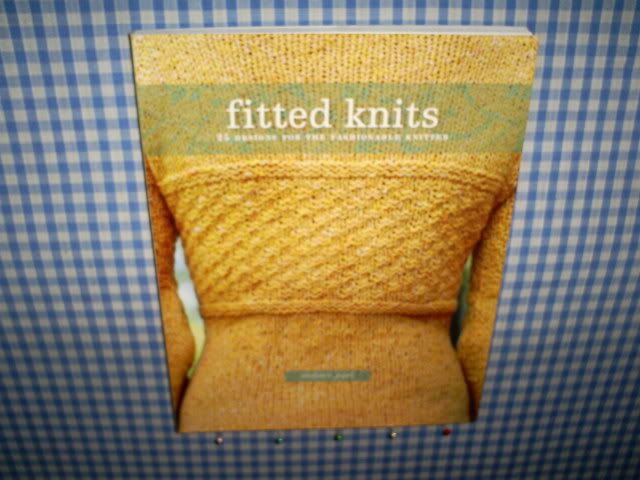 This arrived too, after seeing
Queen

Frogger's
copy, I just couldn't resist, so I ordered a copy from Amazon a week last Thursday and was really surprised that it landed on my doorstep yesterday (Saturday), especially as they had said expected arrival time to be April. There are a quite few things that I would like to make and I am really pleased with the book.
I bet after seeing these purchases, you are all thinking yeah, yeah, but when are we going to see some knitting actually been done, after all isn't this what this blog was supposed to be about. Well I have been knitting honest!!! Not as much as I like, as mundane things such as work, housework and paperwork have been getting in the way and the NOT mundane things such as Internet Shopping and reading other people's blogs.;-) I have very nearly finished the cropped cardigan, just one sleeve to go and the sewing up and knitted band etc... and I have completed
the first G-Rock
STR
Sock, and the second is also well on it's way, so hopefully shall have at least one
FO
for you next time.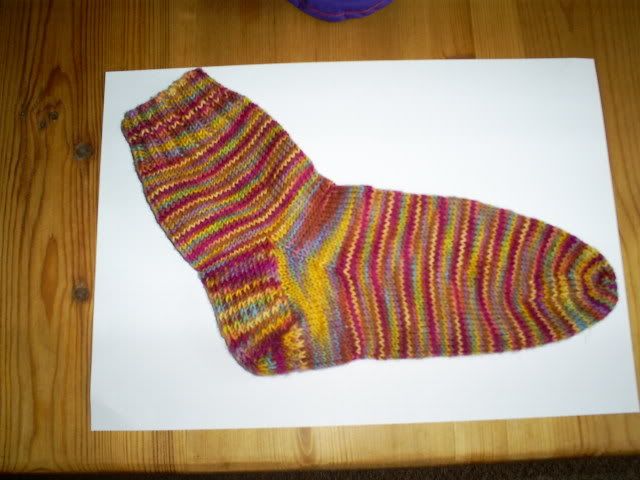 I took the photograph on a white paper background, in hope that you can see the many colours better.
I did have a laugh though, the middle of last week, as the pattern from the Pattern a Day calender was this, for Valentine's Day. "A Valentine Thong"
Even DB couldn't stop laughing, until I told him, that I was going to make him one, instead of socks, his face soon changed and the language to follow, I couldn't possibly repeat on here, "now what yarn would be the best to use" ;-) I do apologise to the person who's design it is or to anyone who has made or considering making this, but for me
personally
, as much as I like wearing knitted items, knitted pants of any kind is
definitely
a no-no. So I shall leave you with that chuckle! but seriously if anyone should like the pattern, please let me know and I shall happily pop it in the post, and I promise I won't laugh.
(too much....)