Shhhh

.... I don't want to say it to loudly, but we've actually got some sun on a bank holiday weekend, quite rare for the U.K. but fabulous, I had a lovely day Saturday, as DB and I went to Sutton on Sea again on the Harley, It was busy enough, but not as busy as you would expect on a bank holiday. We had Fish and chips, traditional seaside fare, and a walk along the beech followed by a Ice cream, I think the poor bike was groaning a bit on the way back though;)

We also had a barbecue at DB parent's yesterday, first one we've had this year, so it made a nice change and really felt the smell of summer... Tess of course was happy, in her element with sausages, burgers and steak on the offering and had lots of fun in the garden playing with the hosepipe and her ball afterwards!
Thank you for all your well wishes, regarding my lip. Your comments really do mean a lot and make things not seem so bad, you are all such lovely nice people. although the lump has not got any smaller it has not got any worse either and it seems a lot less irritated than it was, although I was a bit disappointed as my appointment with dermatologist has been changed and is now on the 13th September instead of the 5th, so another week of waiting and although I am not usually superstitious I can't help feeling relieved that the 13th falls on a Thursday and not a Friday, and at least something positive can be done and hopefully he'll be able to remove it with little trouble.

There's not been much knitting been done over the last fortnight, but I've made a few purchases. Whilst in Yarn, there was a sale, but not much left unfortunately when I got there, as I didn't know they were having one. I did see some Ribbon Twist in the sale though, another Rowan yarn, sadly now discontinued. I was rather disappointed that they did not have enough of any particular shade in the sale to make Beth, a winter jumper I have been wanting for to make for ages now. So I did ask them to order me some in the shade Riches,





As this wasn't in their sale, I thought I would have to pay full price, but they deducted £7.50 off for the ten balls, so I was really pleased. Also while I was there I picked up a copy of the new Vogue, this is really an excellent bumper issue, with lots of good stuff, as they are celebrating 25 years. So Happy Birthday to Vogue Knitting!




After seeing the gorgeous Cherry Tree Hill, Louet Gems on Roxy's blog, I just had to go and order some, these are in the shade Blueberry Hill, the colours are gorgeous and jewel like. Thank you for the link Roxy




There are just so many gorgeous shades to choose from, I can see more of these being added to my stash very soon.

The fourth STR kit will hopefully arrive very soon, I've been avoiding blogland over the last few days, so I really do not know what the kit will this time, I'm kinda hoping it's not going to be lacy like the grasshopper pattern, that came with second kit. I've been struggling to find an alternative to use with that yarn Walking on Wild Tide, the yarn is so beautiful, lovely colours and so soft, nothing seemed right, I tried several, but they turned out either to big, or the lace didn't show the yarn's at its best. So I finally settled on Tidal Wave, which was the original idea I had after seeing the one's on Curly Brunette's blog. Thank you CB for the link, I love the pattern, fabulous with both written instructions and a diagram and the pattern is so simple to memorise anyway. The pattern for this is a free one from The South West Trading Company. Here is the progress so far I'm just up to the start of the heel flap.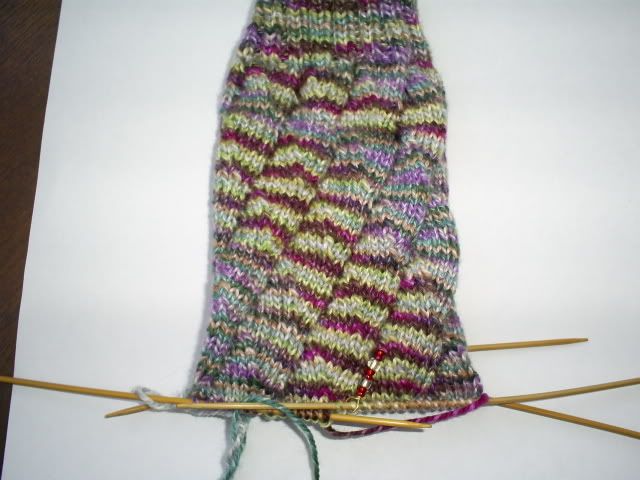 The only other knitting I have done, is this simple trainer/ankle sock. The yarn used is Regia Cotton Color Shade 4183, a bargain I won on eBay for 99p It was only for one 50gram ball, that's why I am making it into just a pair of basic trainer socks, as I don't think I would have enough yarn for a normal pair. but as I mostly wear trainers at weekends, they'll be perfect and you probably couldn't buy a pair cheaper ready made anywhere either.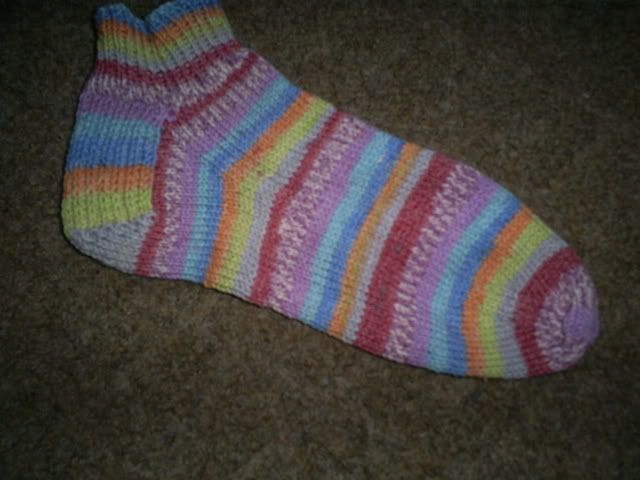 I've have also made a few other purchases, but I'm still waiting for them to arrive, so I shall put those in the next post. I feel like a little squirrel, building a hoard for the winter time, but that's what we knitter's like doing best.