At last, I have finished the Laura Long Cropped Cardigan from Yarn Forward Magazine, this looked as though it should have been a fast knit, but seems as though it has been a very long
WIP
, but here it is all done ;-)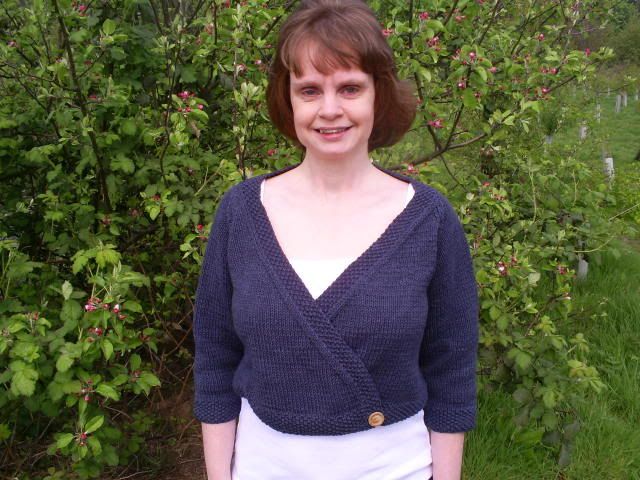 And here is the back view
The underarm feels a little tight, so I am now wondering whether I would have been better doing the large size rather than the medium, but then the body may have been a bit too big and baggy. I think the real problem was down to the length in the raglan shaping, maybe it should have been a little longer, but to get the raglan shaping looking even, you needed to decrease one stitch on every alternate row, but then surely if you knit more rows this way, you end up with very few stitches left for the back of the neck, or do you cast on more stitches in the first place! Confused? I know I certainly am, boy did this pattern give me some headaches, but then that is how to learn and gain experience, maybe one day I shall learn how to adapt patterns. But apart from that, I do love it and will probably actually wear it too, even if it is just for taking Tess for a walk and I am secretly pleased with myself that I
persevered
with it to the bitter end! Thanks again
Roxy,
without all your help on this I would never have got to the finishing line!
Work has still been fairly busy, not helped by the end of the Tax year falling right at the start of the Easter Bank Holiday, but that's all done now and sorted, so hopefully things shall get back to "normal" very soon ;-)
Tess would like to say a big thank-you for all the well wishes and is feeling much better now and back to her normal self, the lump has now disappeared with thanks to mum and dad for
bathing
the infected area, with Salt water and
TCP
not at all pleasant for the little dog, but far better than that lady vet squeezing, poking and prodding and of course a few
Dog
Choc Drops just helped the antibiotics go down! So thankfully another visit to the vet was not needed, although Tess says she shall milk the attention for a little longer and make sure she gets plenty of rest in her favourite armchair.
I haven't done much knitting lately, what with the warmer weather, although I did manage to finish The Inside Out Monsoon sock. I have enjoyed making this
and
the yarn is so lovely to knit with, alt
hough
knitting on 2mm
dpn's
, this is not a quick knit and I did find the cables on the leg part a little bit fiddly, although I think this was down to me using longer
dpn's
than usual, I usually use short Brittany 2.25mm needles, but these do have a
tendency
to snap and break, so this time I used Clover bamboo instead and these no doubt are stronger, but they are also a bit longer and kept getting in the way, when trying to twist the cable, although fortunately the cable twists are on every tenth row, so there are plenty of plain rib rows in between. I did 55 rows for the leg, which is a good length, but at the same time, still leaves plenty of yarn for the second sock, don't want to running out of yarn after all that work now! I don't think I will get second sock syndrome with these, cause this time I know exactly how many rows need to be worked on each section and will not have to keep stopping to try them on, and also I can't wait to be able to wear them!
The second
STR
kit, I think, is going to be
dispatched
this week. I am really looking forward to seeing what this one will be, I did however to help with the waiting, order a couple more skeins this time in the colours
Foofaraw
and Farmhouse.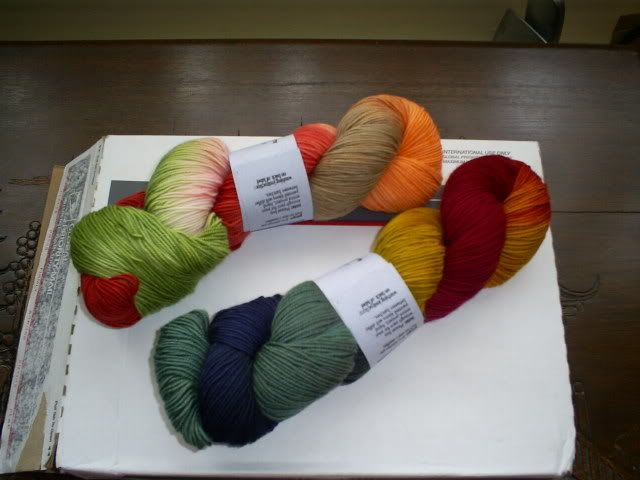 These colours are fabulous, the photograph really does not give them justice and it is very difficult to resist the temptation of starting yet another pair of socks, but I can't possibly as those Trekking Socks are still on the needles and I must get them finished first really.
I have started
Caister
, but only done a few rows so far, for some reason, Tess seems a bit more playful with this, usually she quite happy to sit at the side of me on the settee, whilst I am knitting and usually only tends to jump and pounce if the ball should fall and roll across the floor, but with
Caister
, four balls jumping up and down in the bag together is too much to resist and has been making her go a little crazy, playfully growling, almost as though she thinks the bag is alive, so I have been only knitting this early on a Sunday morning, whilst her and DB have a lie in ;-) crikey it is going to take forever at this rate!
Hope everyone is enjoying the sunny weather, let's hope it continues ;-)