Well, isn't the recent weather becoming rather tiresome, this is supposed to be the summer for goodness sake. I, in Nottingham have not had it anywhere near as bad as some parts of the country and to have your home flooded more than once must be devastating. My heart goes out to these people, as the clearing up process takes so much time and for the worry of listening to the forecasters predict more heavy rain is unimaginable

.

We did not manage to go camping in Whitby after all, the forecast for the whole week was not good, and really by watching the inches of rainfall, it was probably best we didn't go. We did however, manage to go out and about on an odd day trip and made the most of what bits of sunshine we did get, one of those trips DB took me to our local

LYS

Yarn. I had a fabulous time, browsing through books and getting to feel and see lots of lovely yarn, so much better than on a computer

monitor

. To be honest, I wasn't looking for anything in particular, as I have that many

WIP's

I can't possibly start anymore or can I? Then I saw the lady owner of the shop wearing a fabulous cardigan, and after a lengthy discussion with her, it really did appeal both pattern and yarn used. The pattern is this one called The little lacy number cardigan
and comes from this book called The Sublime Merino Hand Knit Book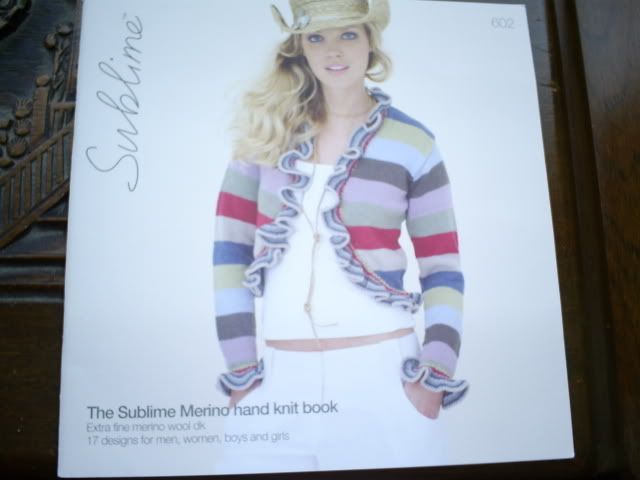 The yarn used is Sublime Extra fine Merino wool and is so soft, you just can't help touch and feel it, by this time DB came into the shop and when I showed it him, he did say he could see me wearing it and offered to buy me the yarn, to make up for the

disappointing

week's holiday, now you know, this is a good offer you just can't refuse. So another

WIP

on the needles, although I have really settled into this pattern, the lace is very basic and simple and is only worked on every fourth row, with stocking stitch in between, great for TV watching, the pattern also has a ribbed waist section which is done on smaller needles to the main part, now anything that makes this area look slimmer is a bonus in my opinion ;-)
Here is my progress so far on the back. I chose this lovely deep pink colour, a change from my usual blues and greens, but thought it was time to be more adventurous with colour and after all it helps to cheer up these dark and wet days.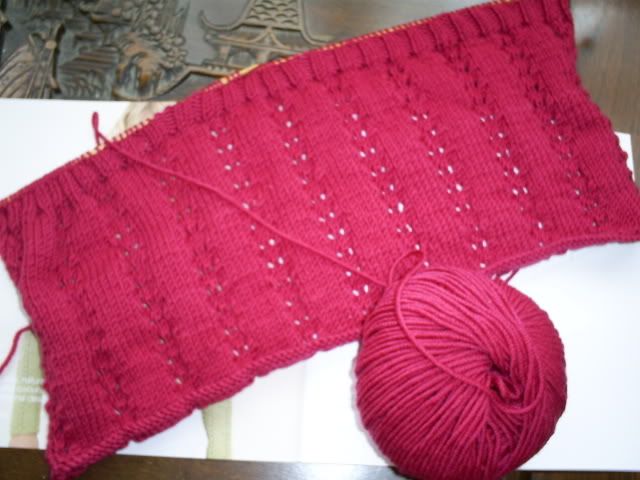 I
have also made good progress on the Jaywalkers and have now completed one sock and cast on for the second straight away and I am now about half way on the cuff.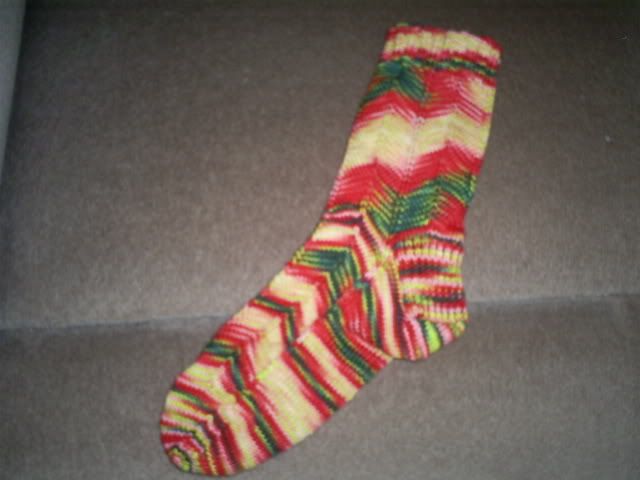 I am a bit more used to the colourway now and I am pleased how it turned out and I bet you'll agree you've never seen a sock quite like it before ;-)
I am now back at work "groan" Am I the only one, but why is when you start back, after a couple of days its always seems like the holiday break never really

happened

, at least we have our knitting to look forward to at the end of the day, oh what sanity ;-)