For my first F.O of 2008, Here's the completed pair of socks that I have making for DB over the last couple of months.
Yarn: Trekking XXL by Zitron
Needles 2.5mm DPN
I did enjoy making these as the pattern is easy to remember, ideally I would have made the cuff a little longer, but after reading on ravelry that others had run out of yarn, I only did them for six inches instead of eight, but then the annoying thing was I was left with 18 grams of yarn, so could have probably could have done another inch in the end, but still better to have too much than not enough. The pattern comes in four sizes, I made the Man's large size and they fit well and easy to put on and take off, so DB is really happy, so much so, he has asked for another pair, eh some people are never satisfied are they? lol!
The heel is eye of the partridge and is the first time I have ever done this, I really like the effect this stitch makes, Sorry the photo doesn't show it very well, but you know how difficult dark yarn can be to photograph at times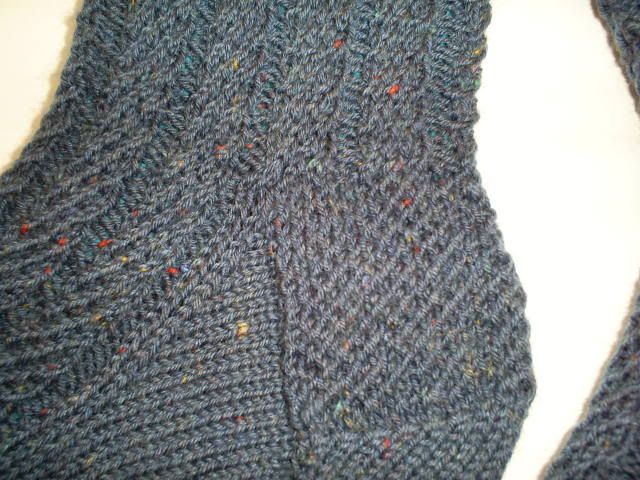 Talking of F'Os last post I mentioned that I'd finally finished
Beth,
The good news, after a final wash and a light press, she actually fitted better and is now not quite so snug, so I have been able to wear her a few times, especially during the cold spell of weather we had last weekend, Here's a couple of pictures of me wearing her, as I find it is always better to see them being worn.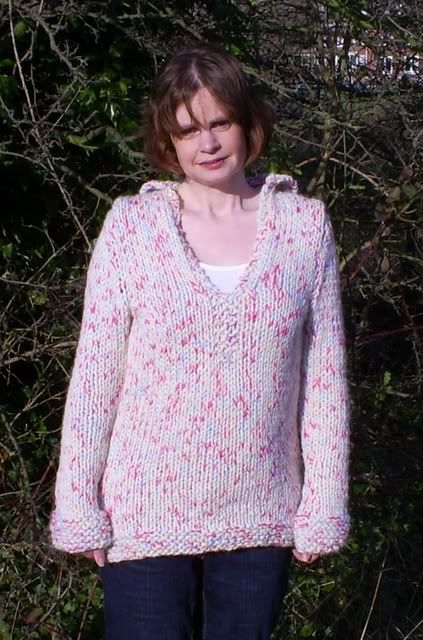 Here's a picture of the back view, I am not really pointing at anything of any interest, it was DB's idea of being a super photographer, either that or he's trying to make me look silly lol!
I am rather pleased how she turned out in the end and it was rather nice last weekend to be able to go out in the sunshine without having to wear a coat.
My weight loss goal is going well, slow and steady but I have lost 10lbs since I started, which I am really pleased about and more so the fact that my clothes are starting to feel looser too.
That all my news really, I have started one or two projects but frogged them, as I wasn't pleased with how they were turning out, although I don't feel like I've lost the knitting bug entirely, just can't settle with anything in particular, too many choices I think. but one thing I have learnt over the last few weeks, my knitting gauge is way too tight, no wonder everything coming out too small, On most yarns I've now found I need to go up a needle size, Is it true though that it doesn't matter what size needle you use providing you get the right gauge? I have read that somewhere, but I'm not sure if it would alter the drape of the yarn in any way. Any reassurances on this would be greatly appreciated?
See you next time :)