Despite the length between blog posts, I have been doing some knitting, and have here a couple of quick projects I'd like to share with you. The first being a pair of ankle socks, of which the first sock was knitted towards the end of last year
This was just using the basic pattern, that you usually get free when buying any sock yarn from such places as
Get knitted
or various other online shops. I made these with a shorter cuff into a kind of Ankle/Trainer sock with a slip stitch heel. The yarn used was
Lana Grossa Magico
, and I really love the pretty pink stripes and they really are a pleasure to knit and wear.
I hope you are all enjoying the Easter holidays, but crikey hasn't the weather turned cold, I was out yesterday taking Tess for a walk by the river and the wind was really icy, so much so that when I got home I made a spur of the moment decision to make a quick hat. I had a ball of
Rowan's Ribbon Twist
in
Rascal
left over from making
Bet
h, so I casted on the
Alpha Hat
yesterday afternoon and had a very idyllic afternoon knitting by the fire. and just under four hours later I'd made this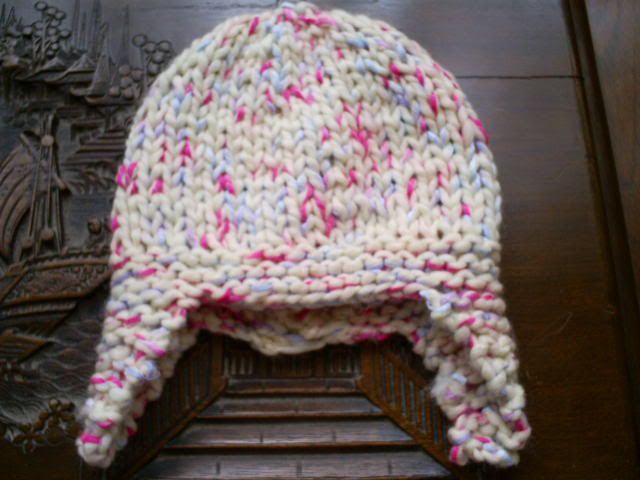 The hat has a fairly snug fit, but is lovely and warm and I just love the cute ear flaps. The pattern is from
The Ribbon Twist Collection from Kim Hargreaves
, also for anyone who may interested as the yarn is now discontinued there is a sale on at
Cucumberpatch
, priced at just £1.95 a ball, I am afraid I went a bit mad the other day and bought three lots of ten balls in the shades Mole, Regency and Rapid. I was persuaded by DB who said that it was a bargain not to be missed, not that I took much persuading though and it's not often your bloke talks you into buying more yarn is it.
I would also like to thank
The Cabled Climber
for the "You make my Day" award.
First time I have ever won a knitting award and I really am as pleased as punch, so thank you
Christine,
you really make my day too.
I would also like to give this award to
Roxy
.
Roxy's
blog was the first knitting blog I read and have been truly inspired by all the lovely knitted and craft items that she makes. Not only that, she has really helped me with my knitting, with lots of super advice, tips, links and ideas. So thank you
Roxy
, you really make my day.
I have a few other knitting WIPs on the go at the moment of which I will share with you in the next post when I have a bit more completed and hopefully a bit more daylight to be able to take some better photos. Happy Easter everyone!